Wow. What's up with all this angry energy permeating everywhere recently?


If it's not an idiot congressman disrespecting our President it's venom from sports fans all over an athlete's sex organ. I coudn't run away fast enough from stories of people rooting for Leno to fail, threats of tennis balls going down throats and Kanye being Kanye. Holy shit! Even my fellow offenders got hit with a bit of the anger bug. Must be the Indian summer or something.
But hate no more, I think I have a solution. Let's call it the Big Head Hypothesis. This theory is simple and should bring much needed peace, joy, and calmness to our world.
B.H. Hypothesis: If we enlarge everybody's head there would be no more hatin' in the world.
I came to this realization as I was changing the diaper of my 3 month old. It's a marvel how nature has taken such good care of us for the sake of prolonging our existence as a species. First of all, as long as the baby is being breast fed their poop does not smell. I'm still blown away by this. That's a six month grace period for the parents to get used to the task. And look at the design of the baby.


Cute, right? Even if they crap all over the place, pee in your face and wake you up every hour, there's still no way you can get mad at them. Why? They're CUTE! And the main reason for their cuteness? Their big head.
So as we evolve as a society, I think we need to use all of our resources and technology to make everyone's head at least four times the size. That way no one will ever get mad at each other, or take each other seriously for that matter.
Exhibit A: pal of the Offenders Mr. PPP Jimmy Tsai


You might think he's got a pretty big noggin' already right?
Bam!


Okay, I know what you're thinking, Jimmy might already be lovable to begin with. So let's take someone that might be perceived as cold and distant and B.H. them. I present…
Exhibit B: Secretary of State Clinton


Come on, if she had enlarged her head she'd be our first female President right now.
I challenge anyone to come up with a human being that would not come across cute, cuddly and non-threatening welcoming with a Big Head by week's end and I'll buy them a free meal at Jollibee.

I don't want to end on a negative tone, but I think the villains of the world are already ahead of us.
Exhibit A:


Exhibit B: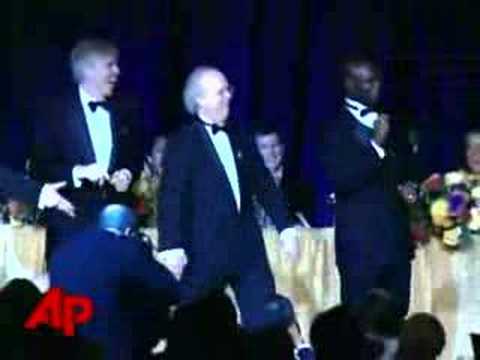 Come on scientists! Let's get a move on.