As part of our new YOMYOMF Network series, The Short List, where we present short films we love every Friday at Noon EST, we've reached out to the filmmakers with 5 Questions to see what's up since the production of their short film. It's a way for them to revisit their film and get an update on their next projects. You can view all The Short List films here.
This week, we ask 5 questions to director Angela Calero, director of WILLY SANTOS VS JO KOY.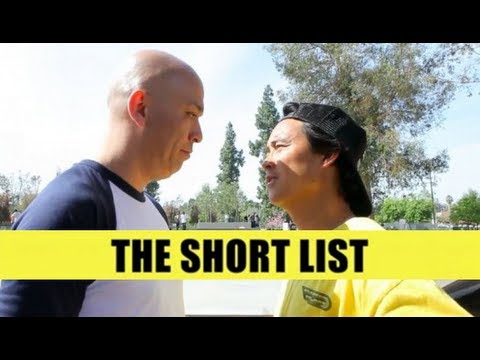 1. How did you come up with the concept for this short?
It actually came together organically. we weren't sure what we were going to shoot with Willy when we were all driving down to san diego. While we were at willy's shop, Jo and Alain Uy came up with the idea of shooting sketch – the "skate off". Alain wanted to shoot it like a classic kung fu movie type of movie, where a stranger wanders into another city and challenges the master at another "dojo". And the rest is history.
2. Any challenges or setbacks during the production?
No major setbacks. just scheduling, really. since it wasn't planned or reproduced, we had to schedule out a 2nd day to shoot the actual "skate off".
3. Any funny stories from the making of this film?
Too many to name. hahaha. but seeing Jo Koy trying to skate while all the other professional skaters in the park stared at him was hilarious.
4. Where has your film played? Festivals or other places around the world?
It's played at a few fil-am festivals in san diego. not sure which one. (Editor's Note: The film played as part of the SON OF ANIMAL STYLE skate shorts program curated by Martin Wong at the Hawaii International Film Festival and the San Diego Asian Film Festival.)
5. What's been going on with you, filmmaking wise since the completion of this short? What are you working on next?
We also collaborated with Jo Koy on a mockumentary with the Jabbawockeez. it's called "Jabbaowckeez: The Truth Behind the Mask". Directed By Alain Uy. Written by Jo Koy, Alain Uy, Duane Than. Executive Produced by Jo Koy. Produced by Jo Koy, Angela Calero, Alain Uy. Edited by Matt Eastwood.
We also have a few other projects coming up.