The Short List is a YOMYOMF Network series,  where we present short films we love every Friday at Noon EST.  For the month of October, we're celebrating the strange, the macabre, and the outright scary —  Perfect for Halloween!
As part of our new YOMYOMF Network series, The Short List, where we present short films we love every Friday at Noon EST, we've reached out to the filmmakers with 5 Questions to see what's up since the production of their short film. It's a way for them to revisit their film and get an update on their next projects. You can view all The Short List films here.
We ask 5 questions to the filmmaking team behind this short, writer-producer-director-editor Viet Nguyen and writer-producer-actor Christopher Dinh…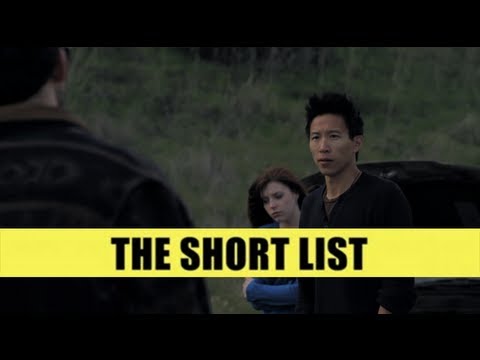 1. How did you come up with the concept for this short?
We were actually watching a horror movie as research for another project. In this slasher film, the setup is a familiar one: A group of friends break down in the middle of nowhere, and then a complete stranger shows up and offers to help them. Of course, he turns out to be a serial killer and murders them all.
Have you ever been so frustrated at a movie that you start yelling at the characters? Unfortunately, that was us for over half of themovie. The characters were making stupid decision after stupid decision and we just couldn't help it! WE'RE GETTING FRUSTRATED JUST THINKING ABOUT IT RIGHT NOW! CAN YOU TELL??!
We were frustrated because the stranger that showed up had all signs of being a serial killer. It was SO OBVIOUS. How could they not see that?!
So we asked ourselves, what would we do if we ever got stranded in the middle of nowhere and a suspicious stranger showed up and offered to help? Chris boastfully answered that he wouldn't hesitate to kill the stranger first. We all laughed. Chris was so full of shit. But it did spark the idea for the movie.
2. Any challenges or setbacks during the production? 
We really shot the movie in the middle of nowhere. Everyone really had to pee in the bushes if they had to go! It was pretty smooth other than that. The only other obstacle that happened (which ended up helping us) was that it started raining on the last shot of theday. We shot the last scene in the rain thinking we'd have to come back and pick it up, but the footage ended up looking pretty cool.
3. Any funny stories from the making of this film?
The shot of the dead body in the plastic bag in the truck was actually picked up a different day on a lazy Sunday afternoon in a peaceful neighborhood in West LA. We wrapped up our producer, Ryan Kim, in trash bags and had him lay in the back of the truck and play dead. The shot was supposed to be a simple one. But before we could get started, two women, who were clearly high on drugs, stopped us because they really believed we were trying to kill Ryan. In broad daylight.
We tried to assure them we were just shooting a film but they didn't believe us. They swooped in, tore the plastic off, and tried to free Ryan. They even told him to run for it! We were losing light, so Ryan finally jumped up and yelled, "I'm fine! I don't need help! They aren't hurting me! Go away!" After it was clear that he was okay, they let us continue… but under their watchful eye. They even stuck around until the end of the shoot to make sure we let Ryan go safe and sound.
We actually don't know who has the better story. Us or them. Because we are positive they went back and told all of their friends they thwarted a murder in progress and saved a guy from a gang of deranged Asian serial killers.
4. Where has your film played? Festivals or other places around the world? 
Crush the Skull won the grand prize for the NBC Shortcuts Film Fest, awarding us a blind script deal with NBC. As a result, we are currently writing a pilot for NBC.
Besides a handful of traditional festivals like LAAPFF and SDAFF, we also had an opportunity to do something really cool online when we released the short on Wong Fu Production's channel during Halloween last year.
Crush just screened at Fantastic Fest 2012 in Austin, TX and the upcoming ScreamFest in LA.
5. What's been going on with you, filmmaking wise since the completion of this short? What are you working on next?
Just a lot of writing. Along with the pilot for NBC, we are also working on other television projects. We just finished a script for a zombie comedy series called "The Living Ted." It's "Gilligan's Island," but with zombies. We are also developing a low-budget feature in the same vein as Crush.
Also look out for our latest short film — "Things You Don't Joke About" — which is about a small-time burglar who finds himself stuck in a bedroom closet when the wife of the house unexpectedly comes home with her lover. Chaos ensues when the woman's husband comes home, forcing her lover to take cover in the same closet.
We are also trying to perfect the armor-lock method in Halo Reach. If you know what we're talking about, we're sorry. You're as sad as we are.