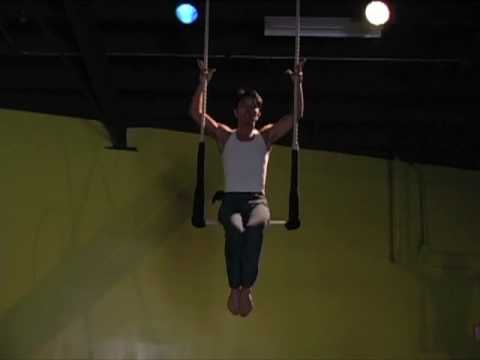 (video is of a rehearsal of a work-in-progress that my friend is still developing… enjoy it!)
Sometimes you meet people and you don't realize how long they'll be in your life.  That was the case with me and my friend Kennedy.  I had met him in the early 1990′s when he and I were both working the same show in San Francisco.  I initially insulted him by laughing at his age (he was 3 year older and that seemed sooooo OLD!) but somehow he and I kept bumping into each other for the next 15+ years.  When I moved to LA and found myself alone and friendless, I saw Kennedy again at an event and he was the one who said, "Give LA 9 months.  Then you'll see if you really like it or not."  (I took his advice.)
Kennedy and I never had a call-you-all-the-time friendship.  It was the kind of friendship that we would show up to all the same events and ended up always hanging together afterwards and laughing our butts off.  Eventually, our only activity that we actually planned to do together was grocery shopping.  In LA (and you have to understand the vast size of Los Angeles), Kennedy and I would get off our separate jobs/rehearsals/commitments late at night and we'd designate a grocery store to meet at.  "I'll meet you at the Silverlake Ralph's."  Or, "I'll meet you at the Von's on Sunset Blvd." etc. Since he and I were both artists and on the same economic level (we aimed to spend less than $50 per grocery trip), we were perfect together.  "Why would you buy those potato chips, when these baked chips are cheaper AND healthier AND taste better?"  "Ooooh look!  Grapes are 99 cents a pound!"  "Oh my gosh, is it already Egg Nog season?"
When I first met Kennedy, he was a stand-up comedian.  Then he dabbled in acting.  Then he committed to acting.  Then he threw himself into spoken word poetry/theatre.  He was always an artist in search of an outlet.  In the last 5-7 years, he picked up static trapeze.  He didn't plan to take it up to do it professionally, he just did it to try something new.  Just for fun.  And somewhere along the way, he found something that really spoke to him.  He loves it.  Finds something new to learn everyday.  Finds something new to work on everyday.  And as his friend, I've never seen him so PRESENT.
Isn't living in the present what we want?  Of course he still worries about the future  and things like that, but when he is doing his trapeze, there is absolutely nothing else he'd rather be doing.  And his commitment and passion SHOWS.  What a lovely gift to himself!  And I, as his friend of many years, get to see the gift of his hard work and passion.
I think that's what's great about being friends with another artist for so long.  I've seen him try so many new things and be really GREAT at all those things, and I get to see him develop and BLOSSOM.  Really BLOSSOM.  You see, when he does trapeze, you may just see the move behind his hand gesture.  I get to see 15+ years of comedy and spoken word and classical acting in that same flick of the wrist.  I get to see him transform all his arts into that one moment.  And if you're an observant audience, you'll see it too.  It's that sliver of shared humanity, of living and of breathing, of dying and of crying, of struggle and of success… in one wrist movement.
I don't earn a lot of money as an actor or a teaching artist and never have…really.  Everyday is a struggle.  But the joy of watching my fellow artists reach inside the depths of themselves and soar like the spirit they truly are, ah… I am rich indeed and I wouldn't give up this life for all the money in the world.