I am a big fan of Gerhard Steidl. An international publisher of many of the most significant photo and art books, his contribution to publishing, and the art and design world is beyond great. He is a visionary craftsman, who personally oversees the production of each book, from conception to final product. He has expanded to non-fiction and literature, but his dabbling into more populist fare allows him to fund some of his more personal projects. Bottom-line, he is a true artist, who fights the good fight when it comes to the importance of books; the need for tactile connections with a tome, as well as the smell of ink and the feel of paper, which are qualities that vary for each book, providing a unique DNA for every tome or edition he publishes. In a world of Kindles and iPads, this is very refreshing.
Based in his hometown of Göttingen, Germany, where his editing house, printing works, and studio for graphic artists and reproduction specialists  are located, Steidl also has the reputation of providing housing for the most prestigious artists of our era, all of whom are attracted by the quality of the books produced there.
A documentary called HOW TO MAKE A BOOK BY STEIDL was just finished late last year and is now making the film festival rounds. Check out the trailer: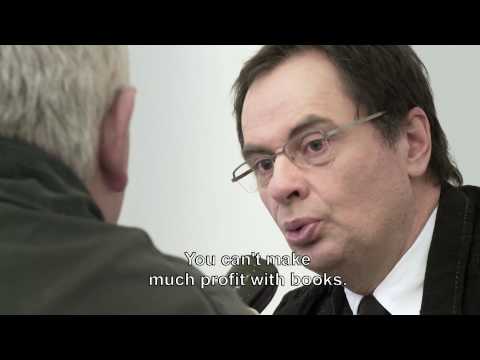 I love his Teutonic demeanor. I can't wait to see this film. Just like how vinyl record sales are at an all-time high in over 20 years, there's a still a niche, but ravenous demographic of collectors (and yes, hipsters), who appreciate the analog. There's still hope for books!!