We love movies and making movies here at YOMYOMF. Recent blogs range from praising the must-see doc The Tillman Story,  Offender Jerome's challenge to blog about Inception once a week til the end of the year,and of course the semi-regular 1,001 Reasons I Love Movies series.  There are so many facets in the production of a film. Every position is integral, but I have to argue that the role of the Editor is just as important as Director. The best editors like Walter Murch, since it's their job to envision the big picture and see how all the scenes become one cohesive story, rather than just honing individual scenes.
One of the best movies about making movies is MODERN ROMANCE, written, directed and starring Albert Brooks. He plays a hapless film editor who must balance his love life and edit a cheesy sci-fi movie to appease his director played by real life Oscar winner James L. Brooks (Terms Of Endearment, The Simpsons). The late and grea Bruno Kirby plays Brooks right-hand man.  The following is one of the best scenes that encapsulates the art of editing and the neuroses of filmmakers in general: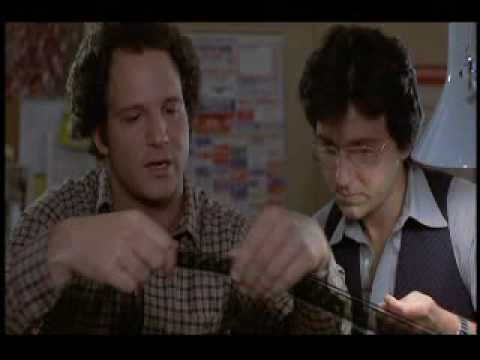 Since the film was made in 1981, people were cutting films and using moviolas. In fact, Steven Spielberg and Gus Van Sant still cut this way, to this day!
I just love Albert Brooks, especially his early work. He was the West Coast Woody Allen, a mensch who made funny observations about everyday life; a proto-Seinfeld who was not as saccharine and more of a schlub but in a lovable way.  The banter in the above scene between these great characters is at the same time, funny, reflective and calming. It's mountain out of a molehill kind of stuff that makes it so charming. Movies like this are blissful to me.
The art of banter is severely missing in movies nowadays. Gone are the small and mid-range movies about adults and adult issues, which have been curtailed for $250 million budgeted cartoons. Sure, Woody Allen still makes movies, but he's getting old and frankly, he's making the same movie over and over again, and it usually centers around lusting after Scarlett Johansson.
Albert Brooks movies were all about the banter. So were screwball comedies from the '30s and '40s. Just getting sucked into the art of conversation and dialogue in these films is blissful. Sometimes, movies that center exclusively on conversation is all I need on a rainy day. Just pop in a DVD and enjoy scenes like this:
Or this:
Or this:
Clips from My Dinner with Andre, Metropolitan and Clerks