Wow, remember when we talked about the idiotic attitudes of the producers behind this RED DAWN remake? It was one of our very first YOMYOMF blog entries and it caused quite a discussion on the continued racial ignorance that permeates today. If you don't know what's up with this remake of the cheesetastic '80s Communist invasion in Middle America action movie, then here's a quick recap: In this new version, the bad guys aren't invading Soviets, but Communist Chinese! It stars Tom Cruise's stepson and is vying for a pussified PG-13 rating.
Well, news has come out that the producers are going to switch out the Chinese baddies and make them North Koreans instead. Yep, you read that right. They're going to employ digital effects to change flags, emblems and soldier's uniforms and swap them out with North Korean symbols. So, why are they doing this? Pure economics, Charlie Chan! With China's booming and lucrative film market, why piss them off? Aintitcoolnews reports:
…potential distributors are nervous about becoming associated with the finished film, concerned that doing so would harm their ability to do business with the rising Asian superpower, one of the fastest-growing and potentially most lucrative markets for American movies, not to mention other U.S. products.?? As a result, the filmmakers now are digitally erasing Chinese flags and military symbols from "Red Dawn," substituting dialogue and altering the film to depict much of the invading force as being from North Korea, an isolated country where American media companies have no dollars at stake.
Apparently, MGM, the studio behind the film, has been shopping the new RED DAWN around town and the feedback was making a film where the Chinese are the bad guys, ain't good for the beleaguered and cash strapped studio, especially with THE HOBBIT and JAMES BOND franchises coming up, and China being a major fixture in getting some of that money back at the box office. According to the LA Times, this unprecedented move will cost about $1 Million to make the changes, which won't be 100%, so some remnant of Chinese symbols and imagery may still exist in the end product.
"We were initially very reluctant to make any changes," said Tripp Vinson, one of the movie's producers. "But after careful consideration we constructed a way to make a scarier, smarter and more dangerous 'Red Dawn' that we believe improves the movie."
Wow, what a bullshit answer, huh? With no release date in site, and the threat of a direct-to-DVD release, does anyone even give a rat's ass? Bottom-line, all Asians look same in Hollywood. Hence, trying to hire Offender Roger to come in for a table reading with him playing the Chinese parts, just because he was Chinese. Uhh…. it's a table reading, idiots! You could have a gay Australian sailor, who was left handed and had a peg-leg read those parts!
Offender Justin just sent me a Youtube clip that pretty much encapsulates this very lame situation…..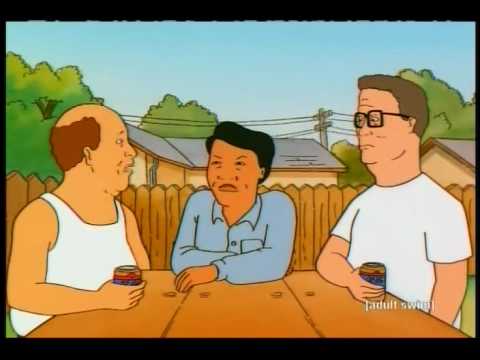 Touché, Hank Hill.